Tonight I...
...rode a bicycle across two bridges.
...was approached by a man and a woman (both strangers) and was told "we wish to join the cult".
...witnessed a man tapping a plastic pad connected to a tangle of circuits and wires and causing a drum sound to be played.
...saw a pair of multicolor robot eyeballs glowing on a tabletop
...witnessed a middle-aged man covered in a mass of glowing LEDs and EL wire.
...listened to the sound of a cello convolved with the impulse response from a wooden door.
...helped a woman field test a subversive, covert anti-television teddy bear implant prototype.
...watched a slot car adjust its speed in response to a computer's system load average.
...was in good company.
Dorkbot.
So Paul hooked me up with a Teensy++ with a couple bad pins a few months ago and I ended up putting it to good use by retrofitting my Ghetto Drum system in order to support MIDI over USB. The project page has been updated and provides a few more details about the Frankenstein job.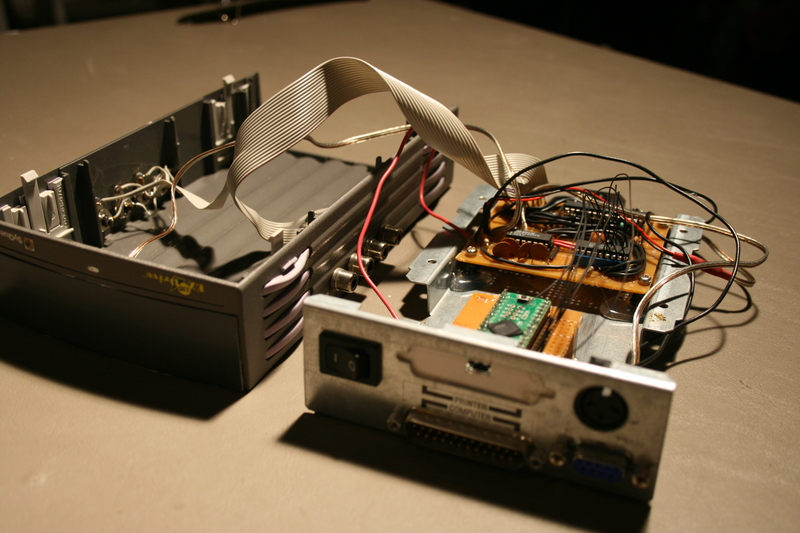 I pulled open the old SyQuest case and unmounted the existing circuit board. After hacking at it with the Dremel for some time, I was able to turn the board sideways to make room for the new Teensy board. I mounted this new Teensy in the upper back and made a ghetto faceplate that allows the mini USB connector to poke through.
I mounted the Teensy on a small piece of perfboard and made some super ghetto wooden standoffs. I wired 10 pins from the Teensy over to the existing PIC board with wire-wrap wire: 2 power lines and the 8 trigger points. On the legacy side, I decided to solder the connections right to the pins on the PIC chip itself. Whatever works!
This change allows the whole mess to be powered by USB when pluged in. The legacy PIC board maintains its old function of reading the triggers and converting the data to RS232, but more importantly, the PIC toggles the trigger LED whenever a pad is hit. :)
On the software side of things, I leveraged Dean Camera's LUFA to build some firmware that allows the Ghetto Drum to show up as a USB MIDI device. When plugged in, the device will show up with a clever name and show itself to the host computer as a USB audio/MIDI interface device. When the triggers are hit, the Teensy sends note on/off MIDI events on channel 1 (zero based).
In order to make some sounds, I built a fairly involved Pd patch that receives the MIDI events and can trigger drum samples from a gigantic library of synthesizers. I used the Dickhole Keypiss with Pd to program different patches and assign samples to trigger channels. After the integration was complete, I ended up demonstrating the whole shebang one Monday night at Dorkbot in Portland.
I hope to have a demonstration video up within a few days.
The midi controller I posted earlier was used to great depth in the missile silo performance that CRM114 Discriminator gave at toorcamp.
I built this little midi controller to trigger samples and control a few Pd parameters:
It's based on an old touchtone telephone keypad, a rotary encoder, a two digit LED display, and a USB-based AVR breakout board (the Teensy++). The PC board was hand-etched at home, and it's mounted in a solid white, repurposed jewelry or makeup box, purchased at the Goodwill.
Click the above to view more images, read the brief technical spec, and to download the code and circuit/pcb design artifacts.
Just a quick peek at the first set of 3 kolpxnty boards that I had fabbed:
They are not without problems and have not yet been instructed to bend the circuit things, but they will soon. The above is being driven from Pd via MIDI by way of Benito.
More to come...
So my pal Mykle has done this EPIC event called LIGHTBAR to cheer people out of their seasonal affective disorder during February in Oregon. If you can't see the victory in building a GIANT and BRIGHT bamboo-event-party-dome, by hand, in the middle of winter, then you need to be poked (with sharp bamboo).
A few of us from dorkbot PDX have been peripherally involved, even contributing some works.
My friend Brian and I collaborated on a light-based project dubbed the RETINAL TATTOO GUN. The concept involved a series of bright flashes intended to [temporarily] imprint iconic imagery directly into the retina with strong after-images (ghosts).
We had a semi-working prototype up at LIGHTBAR last weekend before it collapsed(!!!) this week. This iteration of the retinal tattoo gun was a pretty big technical failure, but it was a fun project and we have a nice foundation going forward.
The circuit I designed/built had a series of issues, the worst of which was some form of ground bounce or inductive jibber jabber that caused all 8 flash channels to fire when any of them fired. Turns out that yeah, it's nontrivial to sequence a bunch of disposable camera flashes.
The day of installation we also found out that the repurposed viewmaster switch was connected in a way that caused the flashes to trigger when the advancer jobby was directly in front of the slide...so most of the light power was dampened. Whoops, doh!
We hope you enjoy the above image, and we hope to have something dangerous, compelling, and electrical to mount to your face in the near future.

kolpxnty camera phone teaser! from breedx on Vimeo.
I've mostly finished the next phase of the kolpxnty board -- driving the thing from midi over usb from apps like pd (pure-data). In the above clip, a braindead pd patch is sequencing the bowels of a Barbie telephone children's toy without any additional circuit bending bonus points. My video recorder died, so the video was recorded in near darkness on my phone ("Sorry folks!").
The next phase is to see how it can switch in circuit bent components (pitch down resistors/caps, for example) and to shrink the board size before having it fabbed.