Dorkbot Portland - DorkbotPDX
DorkbotPDX is the Portland incarnation of Dorkbot... which is frequently described as "people doing strange things with electricity". I'm hosting a few bits here before ever migrating them elsewhere...
DorkbotPDX Logos
Logo entries for PARTS PDXbot:
The following could be used as DorkbotPDX logos...like in flyers or posters or shirts or websites or tattoos. Yes, please have one of these tattooed.
PDXBot Logos
Logo entries for PARTS PDXbot: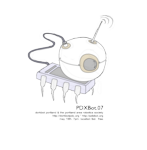 My talk
I gave the first public talk at DorkbotPDX. I don't think it was recorded, but some notes are here
Parts order to-buy or parts I've ordered before:
CP3-1000-ND - $0.93 5.5mm/2.1mm male barrel plug
Wire wrap wire, 30awg, like this
Thin solder. Digikey/Mouser don't seem to carry less than 0.020" [like 28awg (0.015")] lead-free.
Digikey AP1117TL-UDI-ND - AP1117 variable linear regulator
497-4486-5-ND - $1.29 600V 8A SCR
160-1370-5-ND - $1 quad 35V opto in DIP
CP-002AH-ND - $0.42 5.5mm/2.1mm female barrel connector with switch
CP-002A-ND - $0.38 5.5mm/2.1mm female barrel no switch
CP3-1000-ND - $0.93 male barrel connector with solder lugs
74AC138PC-ND - $0.52 16-DIP 3:8 demux
MM74HC595N-ND - $0.55 16-DIP shift reg
Solder braid
Flux paste for wire
New/cheapish iron
Parts for the serial memory board that Ax made:
23K256-I/P-ND - IC SRAM 256KBIT 20MHZ 8DIP (times 8)
568-1396-5-ND - IC DECODER/DEMUX 3-8 LINE 16DIP
BC1148CT-ND - CAP .10UF 25V CERAMIC +80/-20% (times 9)
609-3344-ND - CONN HEADER 8POS .100 R/A 15AU (male, right angle)
609-3458-ND - 10 pin male header, straight
S5557-ND - CONN FEMALE 8POS DL .1" R/A GOLD (female, kinda $$, female, right angle)