Alltalk - by Adaptive Communication Systems
Last updated: October 16th, 2012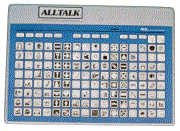 If you or anybody you know has information about the technical design, software, or schematics for the Alltalk, or even programming/engineering staff, or company information about ACS (Adaptive Communications Systems), please send email to jason@noisybox.net. I'd like to provide an archive for this project.
About:
I obtained an Alltalk device inexpensively from a surplus store. This page will document the device and describe my efforts at restoring it to a functional condition.
Shortly after I purchased the device, I observed some amazing and brutal emissions from the unit. Soon after that, it was silent. We will fix this...eventually.
Manual
For now, this page is merely a placeholder for the scanned manual.
Overlays can be downloaded here: