PDX NoiseFest 2005
About
The second annual PDX Noisefest was held at Reed College in Portland, OR on April 1st and 2nd, 2005. Nearly 20 acts from across the globe gathered in the Student Union to blast their noise and do their thing. While most acts were from the Cascadia (west-coast) region, there was also representation from the east coast of the US and from Japan.
I was there both nights with my camera to take pictures. I met somebody at the show who recorded most of the acts onto minidisc, and I later got copies of these recordings from them on CD.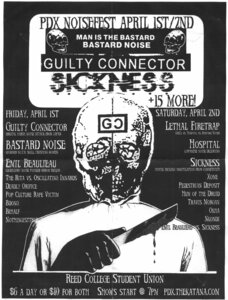 Do you have recordings or pictures from this or any other PDX NoiseFest or NoiseBBQ or NoisePancakes? I'd love to help archive and host your material, so please feel don't hesitate to email me.
PDX NoiseFest 2005 Images
Note: Not all performers/artists have been correctly identified. Please help me identify any unknown artists in this gallery and to correct any mistakes: jason@noisybox.net
You can use the mousewheel or arrow keys or swipe to browse.
PDX NoiseFest 2005 Recordings
The playlist below is all of the raw/unaltered recordings from the CDs that I got from the individual with the minidisc recorder. You can stream or download these tracks from here, or you can download the high quality .flac originals from from the internet archive.
Note: These tracks were sourced from an attendee with a minidisc recorder, the identification of the artists here is incomplete! Please help me identify any unknown artists in this playlist and help me fix any mistakes (especially anything with "UNKNOWN" or "(maybe)" the name): jason@noisybox.net
Video
These were recorded on a 2005 handheld point-and-shoot camera in near darkness, so please understand that the quality is definitely lacking. They were originally .avi, but have been converted to .webm for easy playing on the web.