Here in the future, we don't draw names out of a hat anymore...that's way too error-prone and much too lo-tech for a software company! Apparently my boss set us up on a website that picks names for us. It also allows each person to set up a sort of wishlist with ideas of things they're into or gifts they might like.
At the top of my chosen teammate's wishlist was this surprise: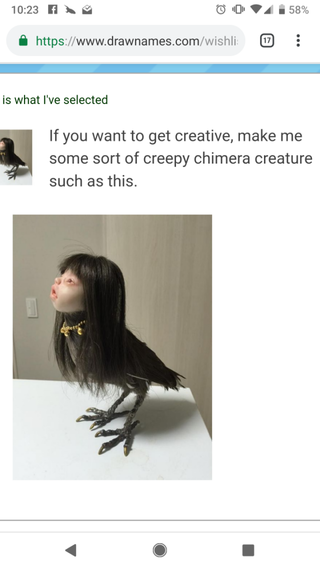 Pretty sweet.
I definitely wanted to try my hand at something like that, but wasn't sure if I'd have the skill or the time to see it to completion. Whatever, I could always buy some books if it didn't work out.
The Build:
When starting out, I didn't have a specific idea in mind. I initially thought that I might try and stick with a bird theme of some kind, but I didn't really have a direction, nor did I have bird parts. We went to the Goodwill bins and sourced some materials, which included a few dolls and a giraffe toy and some dino-cyber toys (and way too much wig hair).
One of the dolls was quite realistic in that "wow that's creepy already" kind of way. I especially loved the chubby detail around the hands and feet and wanted to make use of that. Also, this giraffe puppet thing was fucked.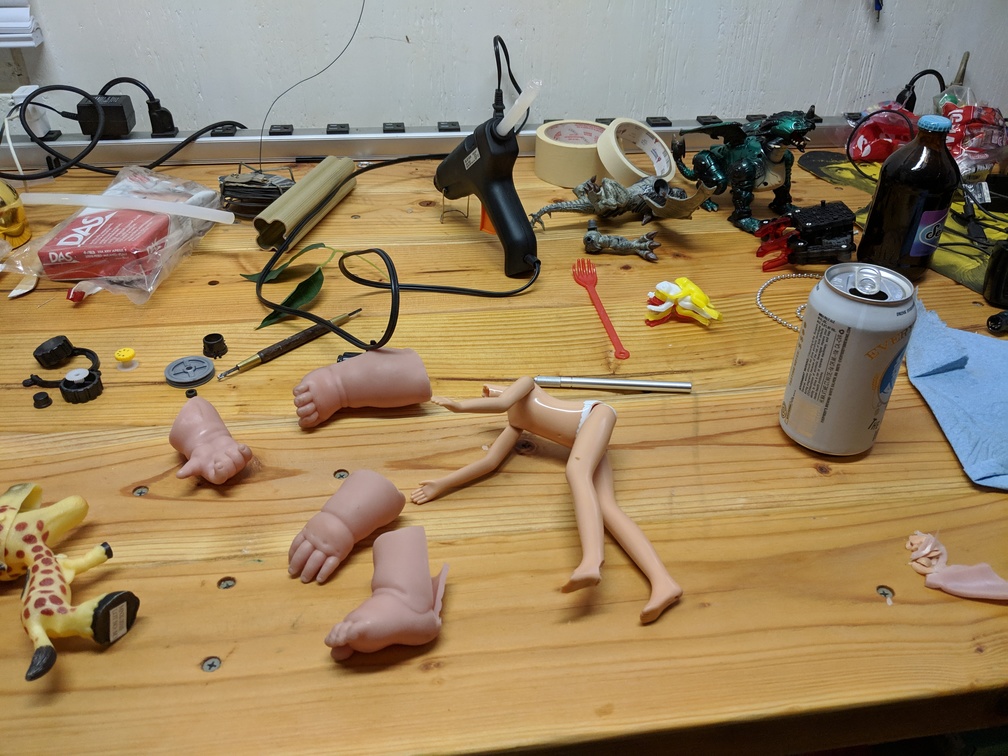 After getting the basics prepared and laid on the bench, I started figuring things out. I decided to just use the chubby hands/feet but mismatch them with another figure and make some kind of giraffe head and dino tail.
I used a beefy rubber cement (plastic weld) to attach the rubber feet to the plastic of the main body/figure. The cement worked well, and the bonds held pretty tight even though the materials were of notably different types. The feet were made of a very squishy/pliable rubber, but the main figure had much stiffer plastic. While the glue dried, I held the pieces together with masking tape.
Right from the start, I was surprised at how well it stood on its own! It seriously was able to free-stand without clamps/braces for the entire duration of the build. I feel like this almost never happens. Sometimes you get lucky.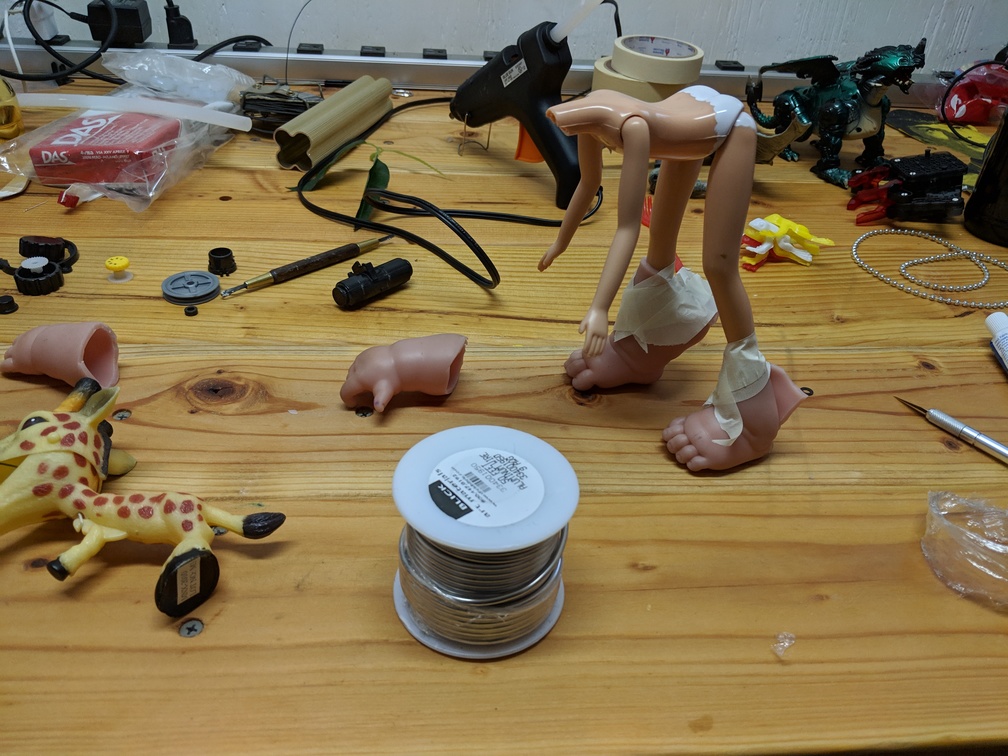 I have always worked with much smaller gauge wire before (usually steel) but I splurged on some aluminum armature/sculpting wire. This stuff is FANTASTIC! So so so so so much nicer than trying to doubling or tripling up steel wire.
I nipped off the smaller hands and drilled a proper diameter hole into the forearms, about a half inch. The fit was tight, but I also secured the metal wire inside the forearms with cyanoacrylate glue.
I did a few tests and couldn't find a great way to bond the aluminum to the rubber. In lieu of a strong chemical bond, I decided to put a few bends into the tip of metal wire, and then fill the cavity of the hands completely with hot glue. Once it cooled, the glue was hardened into the cavity shape and couldn't slide out...and the bends in the wire also kept it into place. Worked great!
The inner workings of the body neck cavity happened to have an opening that just fit nicely/snugly with two pieces of the aluminum wire, so I used that for the main neck.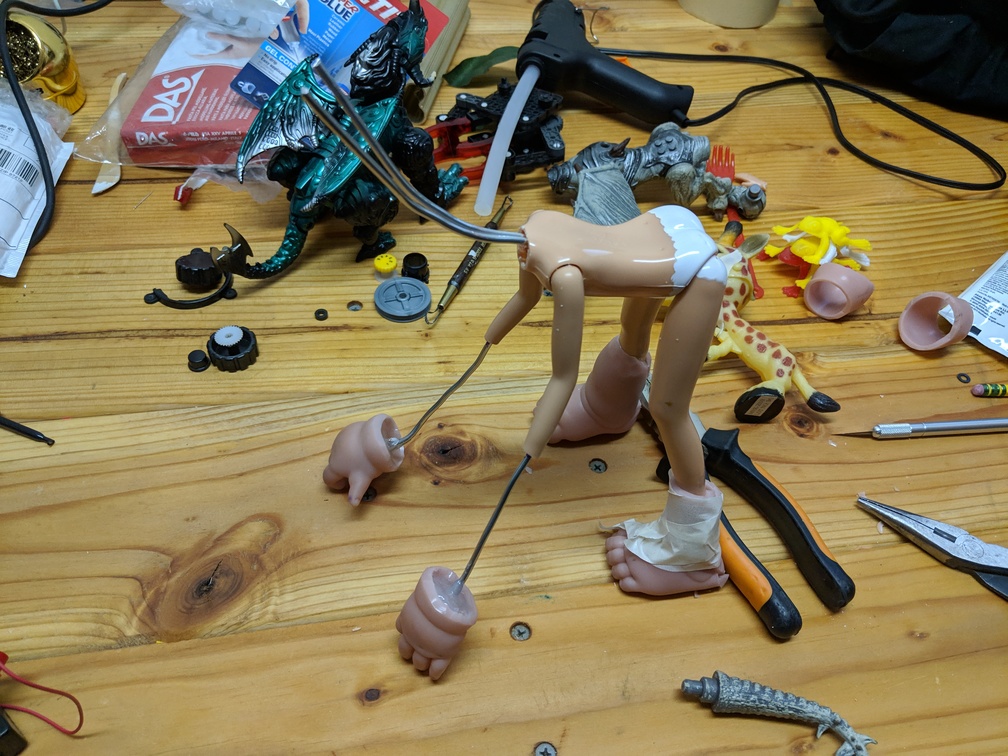 The other side of the neck armature also fit nicely into the neck and up into the head, but I also superglued it into place. The dodgiest part of the whole thing was probably drilling out the hole for the tail, which I did with a tapered/stepped drill bit. It wasn't a great fit, and there wasn't a great way of taping up things while the glue set...but it seemed fine. Next was to start building up the musculature with aluminum foil: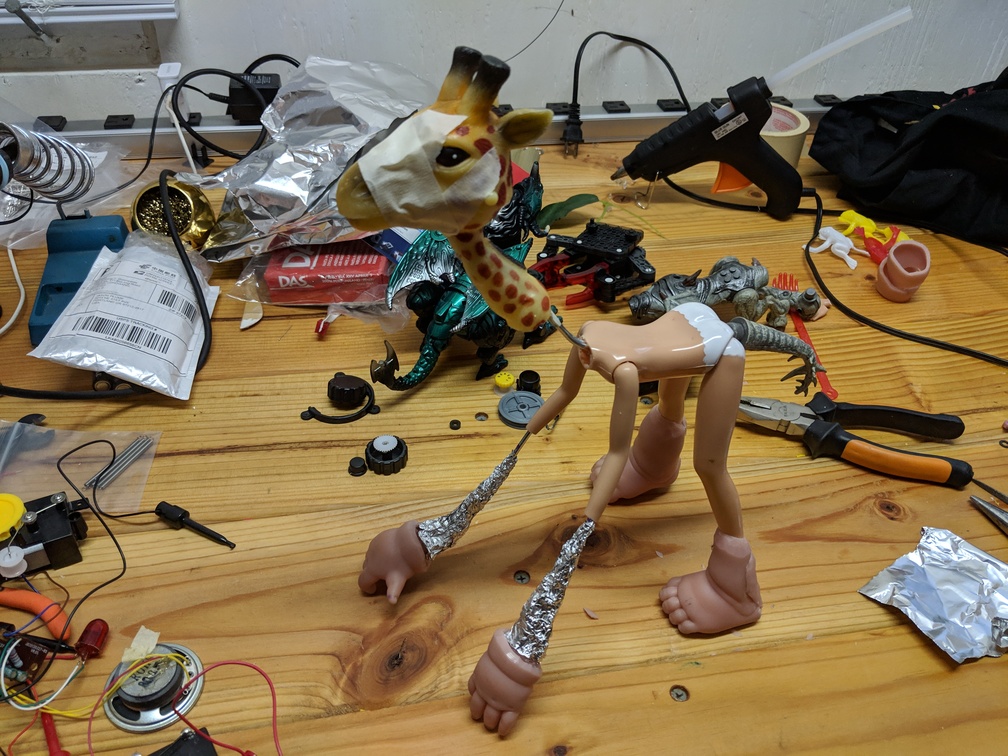 Now that the basics were in place, I built it up the neck, arms, tail, and feet joints with DAS air-drying clay that I had left over from a previous build. This stuff is awesome. I love the smell of it, I love the fact that even though it was 3 years old it was still pliable, and just a little water and some hand strength makes the consistency just right. It has a long working time, and you can re-wet it to extend the time. Once dry, it's sandable and takes paint really well.
One downside of the DAS clay is that it does take a while to dry, especially in an outside workshop where it's pretty cold and definitely wet and rainy in Oregon in December. I guess you can speed it by baking or drying with hot air, but probably at the risk of cracking.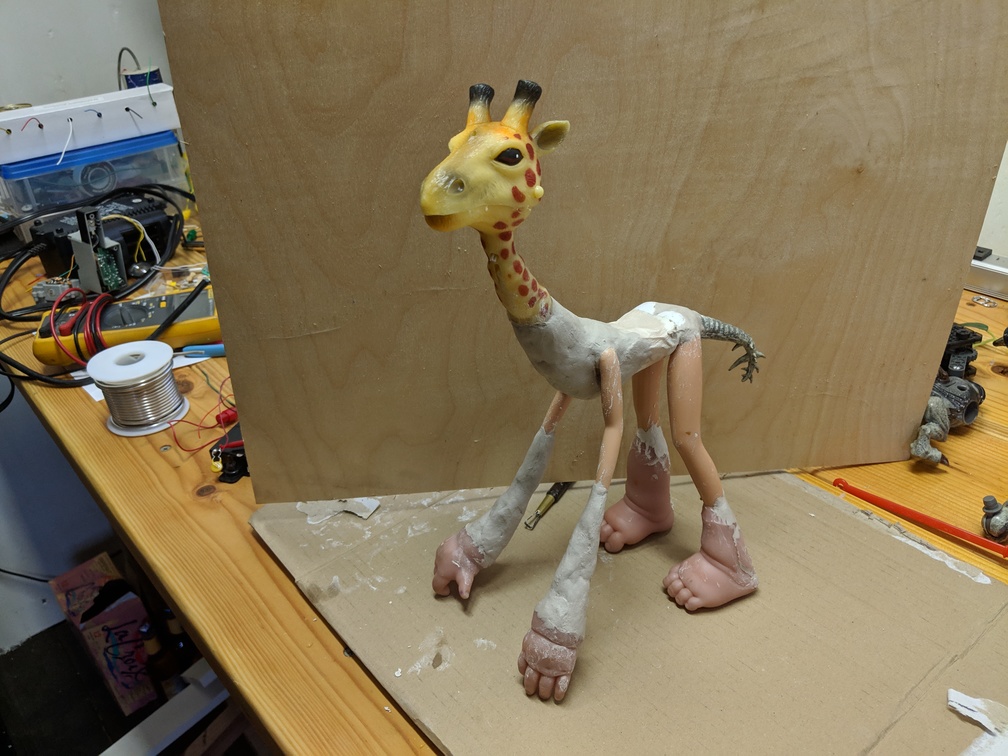 I added some clay bumps (boils?) for detail -- down the front neck and chest, outside the hands, on the back of the ass, and on the cheeks. I smoothed things out and waited for it to dry.
I worked the clay with sandpaper for quite a while to smooth things out and fix up some rough edges. It was time for 3 coats of flat white multi-surface primer, hot air-drying and sanding in between coats.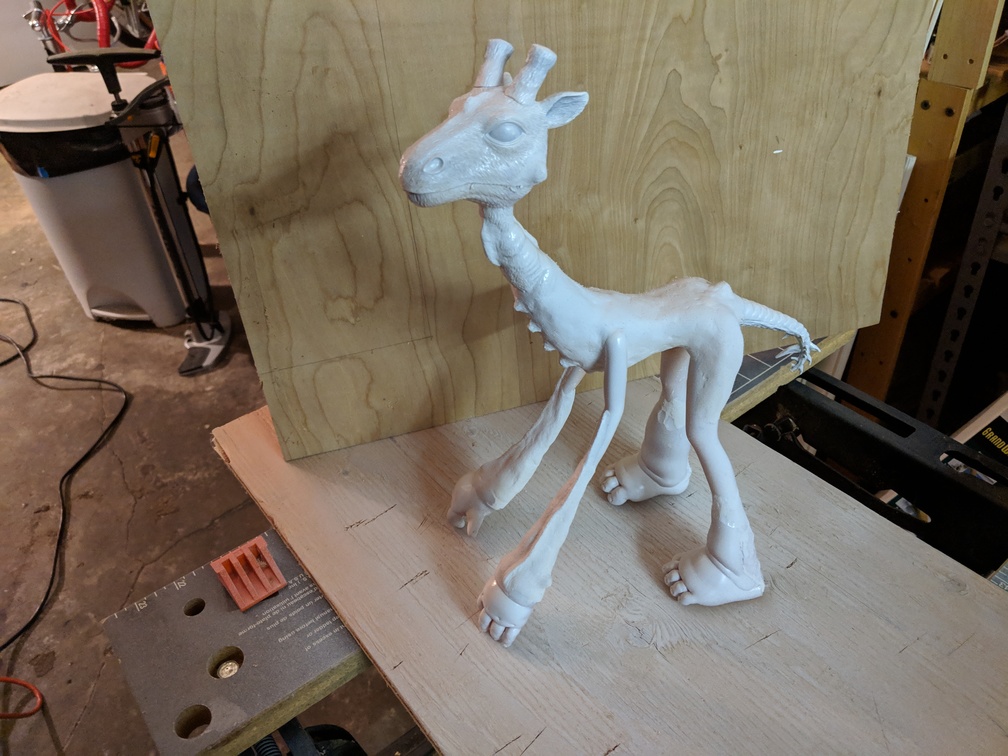 After priming, it was all about painting. I knew I wanted a basic orange/yellow base to evoke giraffe, and I wanted the hands to remain pinkishly eerie.
When the painting was complete, it was time to mount the beast on a stand. I sanded and painted some scrap wood with black spraypaint and then added some more of the armature wire into the back feet and superglued it into holes in the base.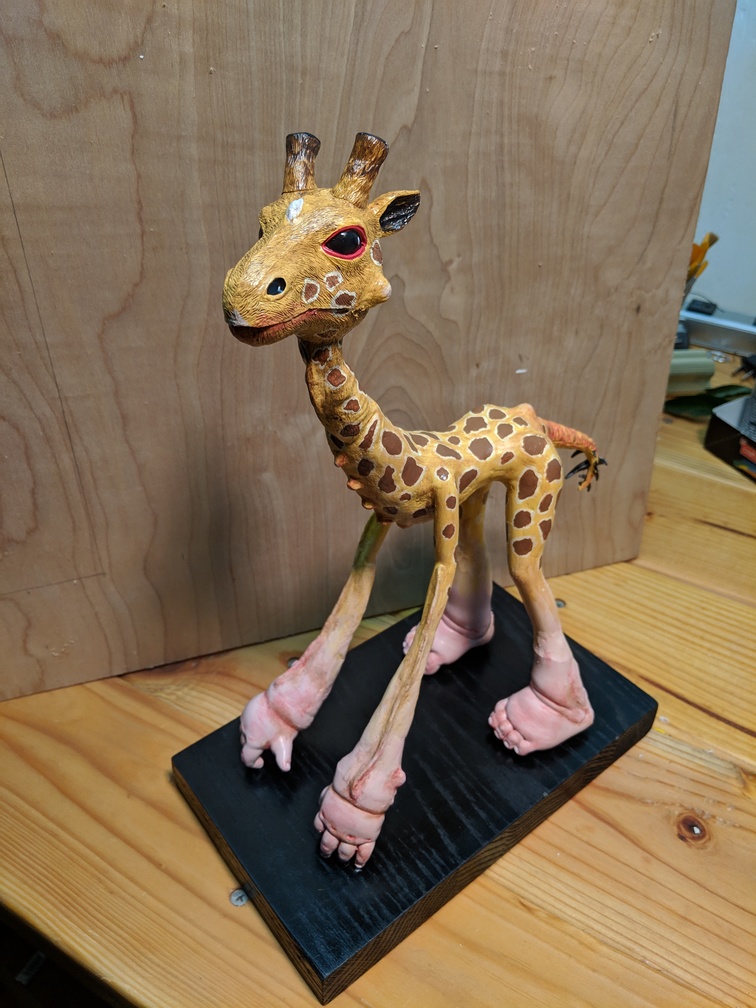 Conclusions:
Fun project! I got to try some new techniques and my coworker loved it.
What I would have changed:
As always, the project needed more time. I feel like some additional detail could have really brought it to the next level...but this was on a deadline and things were rushed...
The clay work was rushed. With a few more days I would have been much more inclined to do more smoothing and add texture to the main body and clay. I really love how the textures show up after painting, and I think much of the body is just too smooth.
There are a few rough spots which I'm not fond of, and I wish the transition between materials on the back legs was smoother. Some of the hobby knife work on the original rubber feet shows through too much, and I wish I would have had more time to conceal it better.
I had some fake fur and hair that I would have liked to incorporate. I decided at the last minute that I didn't have enough time to work with it well enough to make it look good...but I think there's some potential there.
I love the way the grimey/filthy dry brushing looks, and I wish there was a little bit more of that in a few places.