So I took a staycation! And this time, it was voluntary!
People are often curious about staycations -- asking "What did you get up to? What did you get done?".
I'm not sure why -- maybe they're just nosy, but maybe it's because I always have so many projects in the air and I talk about my interests all the time? Maybe people just love the idea of a staycation. I dunno.
In any case...for my own fulfillment and sense of GSD, I decided to log some of the high points of my staycation. I feel pretty good about it overall. :)
In no real order:
I made pretty great bánh mì for my home team. We had some pork chops that needed to be utilized, so I ended up marinading them in a lemongrass/fish sauce potion and quick-pickled some carrots and radishes and made sandwiches with the usual bánh mì gear. They turned out super delicious and I think I will never not marinade pork chops.

Hung our xmas lights. Honestly, I probably only actually realize that it's winter and frigging cold when I have to take warm-up breaks during light hanging. Every. Single. Year.

Updated the DEQ/registration on the 20-year old car (and the only car I've owned). Another stupid-yet-necessary yearly ritual. In the interest of staying positive and constant learning, I chatted with the DEQ guy and learned that failing vehicles will emit a code(s?) that vehicle owners then take to mechanics to do adjustments. That sounded awful...and I started pondering this later as I caused our car to emit a squeely sound as I hit the gas hard. Hmmm. #thisisfine

Topped off the wiper fluid in the car. Yup. AMAZING! Not really, but since we park outside under a pine tree we end up using it a lot.

Spent most of Tuesday volunteering with Futel to finish installing a public free payphone on NE Killingsworth (near 12th).
You should check it out and call your mom (or the operator) and leave voicemail and listen to LPC. It looks like this: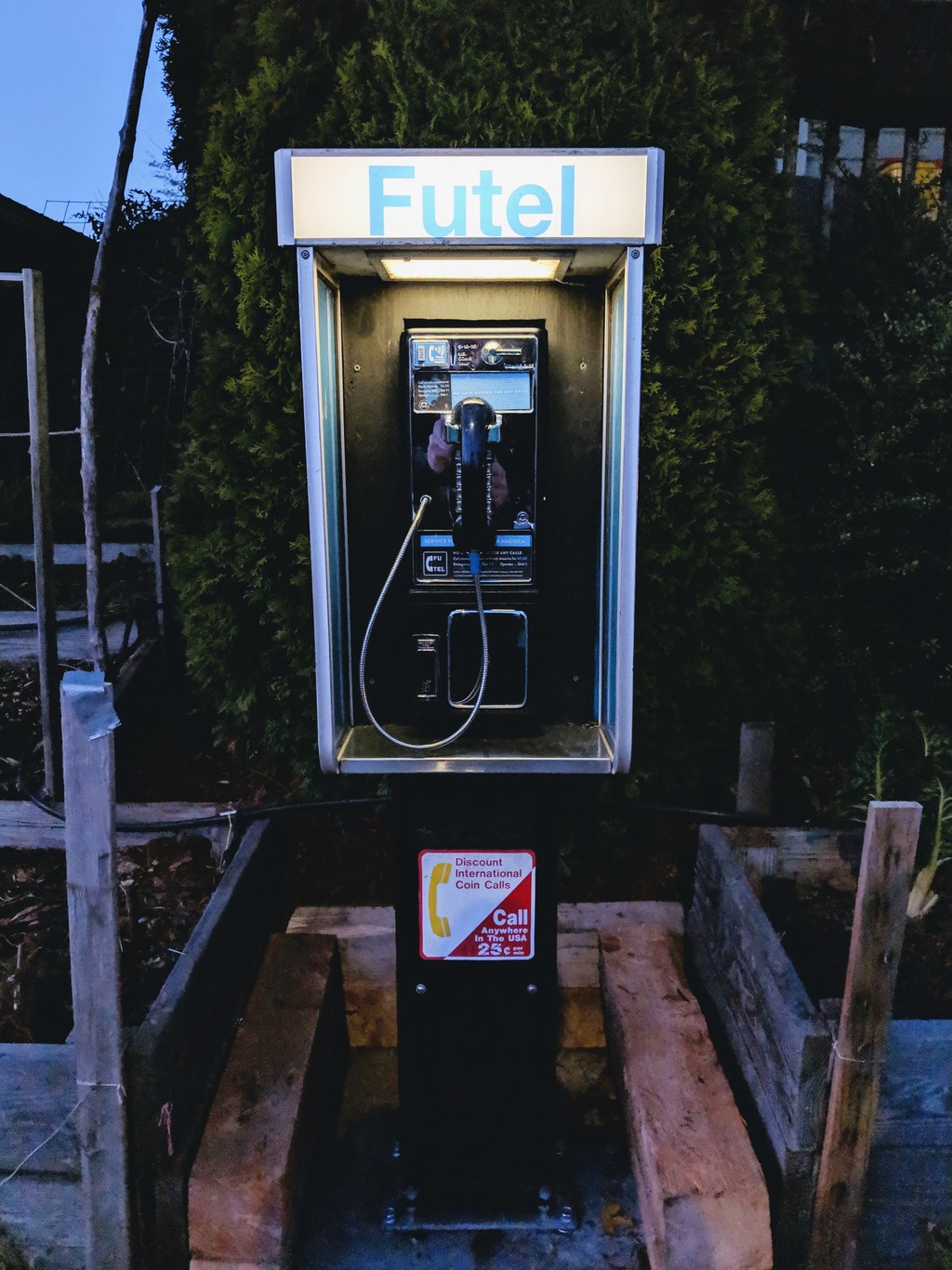 Made a pretty solid beef stew in the InstantPot. Isn't that like the first thing you're supposed to make? Well, meh, I finally did that...and I tossed in a ton of weird/variety mushrooms that I got in a pack. Between the thyme (maybe I used too much?) and the gross-ass-shrooms...I wasn't that into it...but it was hearty. Ok, it was pretty good.

My comic backlog is pretty out of control, so I took some time to get caught up on a few things. Like Prism Stalker (which is amazing and beautiful) and Plastic (which has been sitting waiting for over a year). I don't read that much...but when I do, there are pictures...which I can enjoy while....

LISTENING...to a backlog of sounds. So. Many. Podcasts (and radio shows). And sounds. And music. So much everything, always. After binging on Shit Town I also was stoked on this Negativland Vicki Bennett anniversay thing and some Institute of Spectra-Sonic Sound (which I wish was a snarfable podcast) and this recent :zoviet*france: live set and this radio show that LPC did with Negativland and the new Xiu Xiu video (I was stoked to learn that Thor drummed on the upcoming album) and probably several more things I'm forgetting...

I attended a parent meeting about middle school safety/climate/culture...and sent emails, and read emails, and planned meetings. We also volunteered to walk around the middle school for 20 minutes to serve as recess monitors. While being notably different from elementary school, wasn't too crazy...just more fuckwords and clandestine cellphones. #dadstuff

Got some sweet hot mud drywall repair done in our kitchen and stairs from Ruben Cortez Drywall, who was prompt, reasonable, and kinda excessively (funnily?) chatty.

Attended HH with some friends/colleagues who all got fired from Adidas with me a year ago. Great people, good times, harsh nostalgia. ///

Hung with my cousin and his partner in their new place which is only about 5 minutes by bike! We went late...and I have seriously not laughed that hard in so so many years. This.

We stalked/hunted a wild xmas tree from a parking lot, much like our ancestors. It's a real beauty! At least that's what Stacy's FB feed says.

After 10 years, I finally managed to stitch+sync audio with video for a show that I played on KBOO in May 2008. I got it uploaded to youtube and archive.org and maybe one day I'll finish reworking infiltrationlab.com and host it there too. Big thanks to earfeast (2) for getting a huge/rad 1080p recording before it was reasoanble. :)

It's the holiday season, so in keeping with tradition, I watched Jason Eisner's "Treevenge". Nothing else can ever get me in the xmas spirit like that brutal short film.

Went to a birthday party for my 1-year-old niece, who is frigging adorable. I got to rock her to sleep for a nap and watch her eat cheesecake. What a joy!

I hand-sewed 3 patches on my kitchen apron. It always takes longer than I estimate, and my fingers are always cramped and sore after. It kinda looks like this: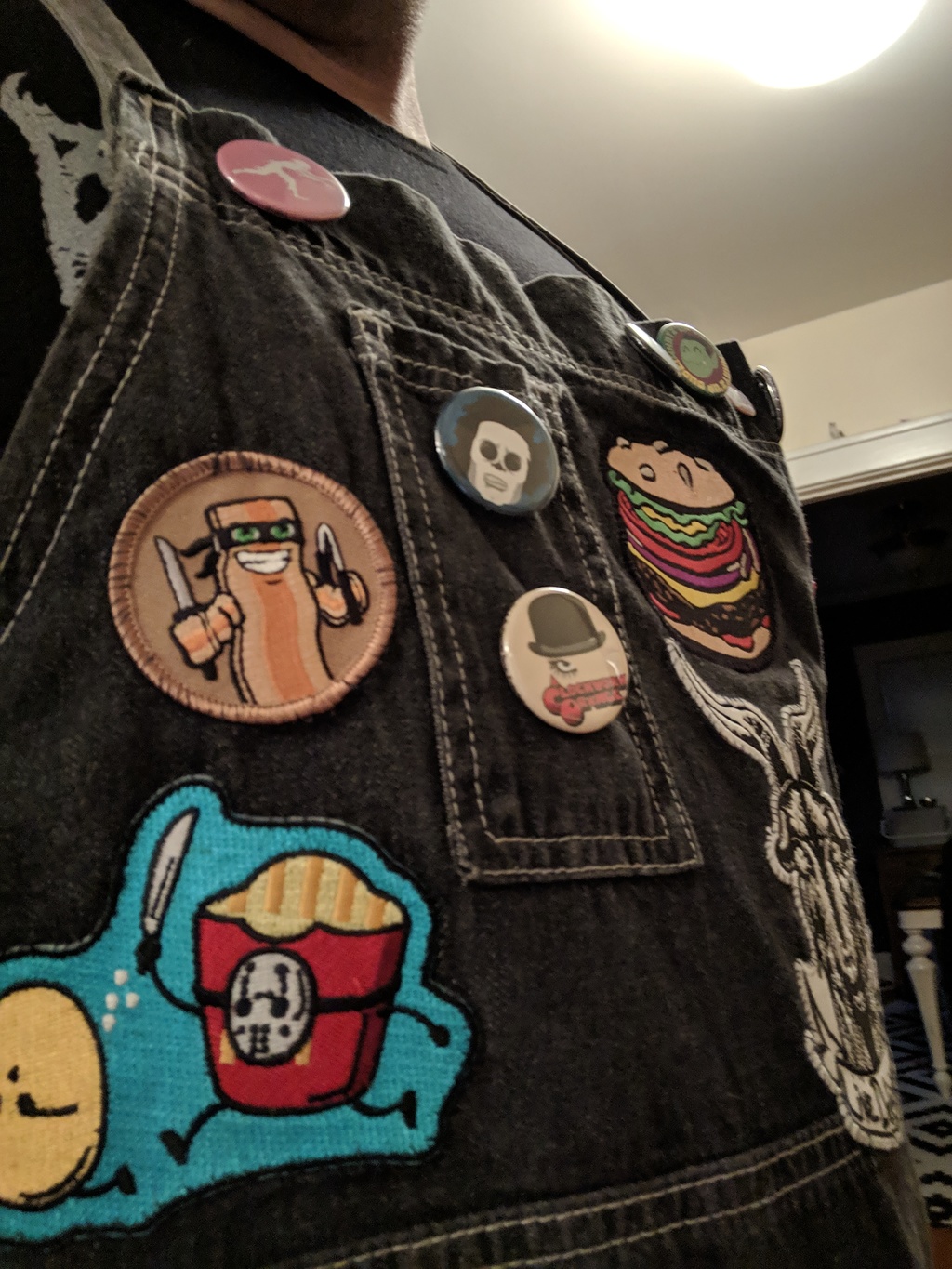 I definitely had a different view/perspective/appreciation of the staycation after being laid off last year. I haven't been squarely project focused. I pace myself. I think thoughts and carve a mild trajectory, knowing full well that it's all subject to change at a moment's notice. I feel like a dad. I celebrate small victories and enjoy the variety and base excitement where I can find it.
Positivity. Regardless.