So my pal Mykle has done this EPIC event called LIGHTBAR to cheer people out of their seasonal affective disorder during February in Oregon. If you can't see the victory in building a GIANT and BRIGHT bamboo-event-party-dome, by hand, in the middle of winter, then you need to be poked (with sharp bamboo).
A few of us from dorkbot PDX have been peripherally involved, even contributing some works.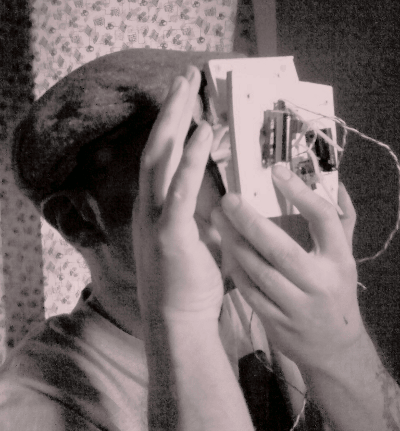 My friend Brian and I collaborated on a light-based project dubbed the RETINAL TATTOO GUN. The concept involved a series of bright flashes intended to [temporarily] imprint iconic imagery directly into the retina with strong after-images (ghosts).
We had a semi-working prototype up at LIGHTBAR last weekend before it collapsed(!!!) this week. This iteration of the retinal tattoo gun was a pretty big technical failure, but it was a fun project and we have a nice foundation going forward.
The circuit I designed/built had a series of issues, the worst of which was some form of ground bounce or inductive jibber jabber that caused all 8 flash channels to fire when any of them fired. Turns out that yeah, it's nontrivial to sequence a bunch of disposable camera flashes.
The day of installation we also found out that the repurposed viewmaster switch was connected in a way that caused the flashes to trigger when the advancer jobby was directly in front of the slide...so most of the light power was dampened. Whoops, doh!
We hope you enjoy the above image, and we hope to have something dangerous, compelling, and electrical to mount to your face in the near future.