Wed Jun 24 2009 22:59:18 GMT-0700 (Pacific Daylight Time)
Sometimes when bogged down by responsibility I can find it rejuvenating to embrace the right kind of distraction.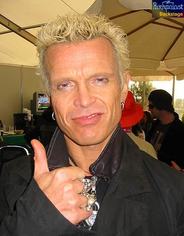 So my distraction involved hearing a radio cut of the Billy Idol hit "Cradle of Love" and finally following thru on a long-time desire to cut the thing into its most fundamental (read: important) parts: The grunts.
"That's right!" Sir Cyborg Himself. Despite having such a HUGE hit in the 90s, there are probably between zero and 3 people on the planet who actually know all the lyrics -- it's a slurred bozo fest of nonsense sexual innuendo and rockstar spittle. Simply brilliant.
So I leave you with ["Rock The Cradle of Love Grunts"](http://noisybox.net/blog/images/Cradle Of Love Grunts.mp3).