Infiltration Lab played a live, hour-long drone/noise set on KBOO FM on February 1st, 2010.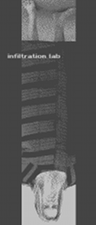 In the unfortunate event that KBOO loses funding or they change their url scheme or de-archives material or bombs hit Portland or whatever, I have also archived the show on archive.org. Hopefully this embedded player continues to work:
A few random tech details: I played the set on my audiopint computer that I built a couple years ago, running some Pd patches that I designed specifically for this show. As usual, the computer (as underpowered as it is!) had no problems keeping up. All sounds in the recording were rendered through Pd in realtime. Some audio material (for the granular synthesis) was taken from a(n unnamed) commercial recording, and the spoken sample material was mixed blind (previously unheard by me) from a psychological tape sourced at the Goodwill bins.
This piece is intended to be a contrast of sorts, a juxtaposition, and an overt psychological response to the reflection of time collapse. There really is no time. If your current self could revert to its earlier self in an instant, what would that event sound like?
Many thanks to Sean for having me. May radio live on!