I clicked on some Forbes clickbait about surprising jobs and their amazing salaries and came across this hilarious image for "Software Engineer Intern":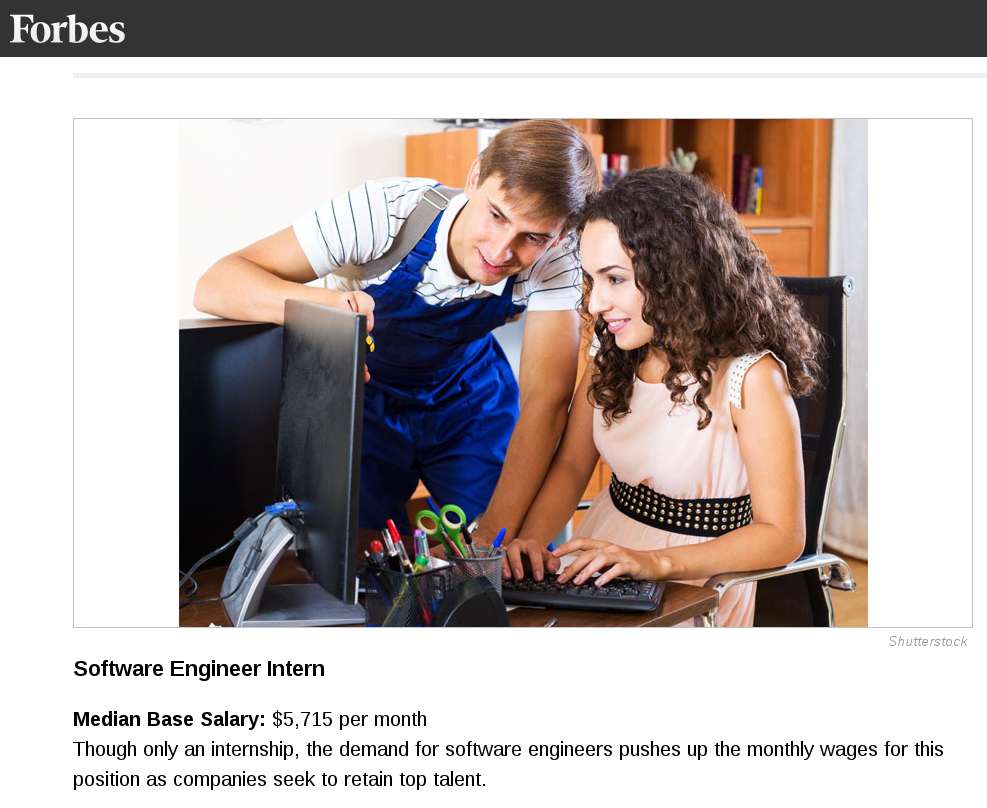 So many things wrong here, I can't even believe it.  Even if this image is outdated, it's still just wrong, wrong, wrong...and Forbes chose to use it.  Grade: F.  Just gaze in amazement at:
Dusty/dirty monitor (looks like somebody maybe even tried to write something in the dust, though it's illegibile)
Monitor viewing angle is wrong (tilted down so much that's it's probably not even viewable)
Sweet VGA connector.
Fake intern's left pinky finger is at least 2 but maybe 3 keys away from the 'A' key.
Fake intern's wrist appears to be infected with 1-3 botfly larvae.  WTF!!  Maybe it's a HR corporate special intern-tracking implant device?
Mario cosplayer is mashing his left hand down on the keyboard while fake intern is trying to hack the Gibson
Mario cosplayer is scraping a screwdriver across the top of the monitor.  Not even using the tip, just the shank.
Keyboard is at a 45° angle to the front of the desk.  Who works like that?
Mario cosplayer (senior developer/mentor) is happily working on this challenging refactoring task, but still refuses to take off his uncomfortable shoulder satchel...
Both eye gazes are on the spot where the screwdriver meets the monitor.  Yeah, fuck that code anyway.
No mouse on the desk.  Maybe Yoshi ate it?
Is this supposed to be pair programming?
At least they seem to be happy.
Software interns of the world:  If you show up at your internship to find a dusty VGA monitor with a tower case on the desk and no mouse, just so some Mario cosplayer can scrape his screwdriver back and forth across your monitor while mashing your keyboard with his other hand....please quit.  Trust me, there are better gigs.