Sadly enough, it seems that Wacky Willys will be no more as of this coming Sunday. I recommend heading over there to pay your respects and bid farewell to the I stopped by this weekend and picked up some general supplies, but scored an interesting device called the "Small Alltalk". The unit is a little larger than a laptop and has tape in/out jacks, a mic jack, a built-in speaker, power jack, and a built in rechargeable battery pack (which I actually can't find at the moment). The top is covered with a touch-sensitive, grid-based screen in which paper(?) overlays were once installed (mine has no overlays). The touch mechanism seems very similar to the touch and tell.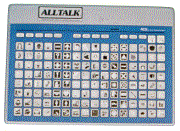 (The only photo I could find online, and it's horrible quality and doesn't exactly match my revision)
From what I can tell, the apparatus was used in developmental rehab classes and was helpful for people with certain handicaps, like those that prevent people from speaking normally. Unlike other similar pieces, this one used actual recorded speech and could be reconfigured/rerecorded (sounds an awful lot like a 1986 sampler, eh?)
When I got it home, I plugged it in and started pressing random buttons. Oh wonderful grating noise belched forth from the speaker...but it was near impossible to tell what I was actually pressing without an overlay. A few more presses and the noise subsided. A few more, and it entered a strange mode that prevents it from making any more sound.
Unfortunately, there's very little information online about the Small Alltalk built 20 years ago. Through much digging, I discovered the name of a place that repairs them, and I tried calling at 10:30 last night. When a woman answered half asleep, I apologized, said that I had the wrong number, and hung up. While at work today, my phone range and a gentleman asked why I had called his house at 1am! I apologized again and explained that I was trying to reach a service business and dropped the name of the device. Sure enough, this nice old guy used to build the things!
Well, we had a really great chat and he filled me in on a little history. I asked about the company that manufactured them (Adaptive Communication Systems, or ACS), and he indicated that the owner just one day closed up shop (sounds sad and eerily familiar, eh?). He seemed to think that he might have a few manuals and/or overlays in his shop, and he obliged me by offering to send one! If all goes well, there will be a resurrection!
I posted the caradisio "kit" (wish I had a better word for my loose assembly of related pd abstractions) and a sound sample over on my pd page.